The Octagon at the University of Sheffield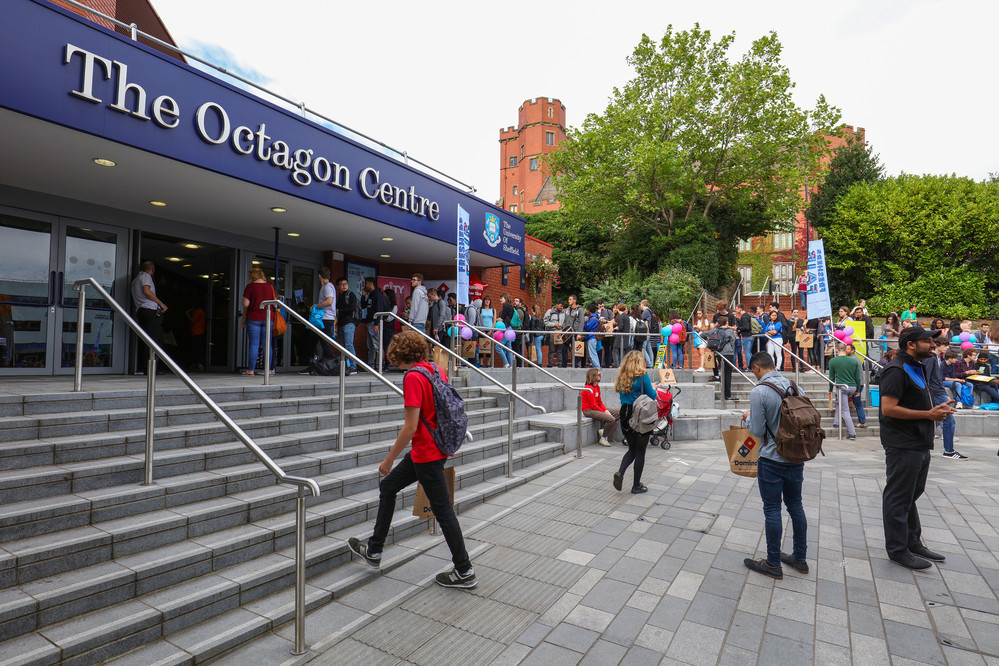 We are glad to be able to welcome you back to Performance Venues here at The University of Sheffield. Our team has been working hard to prepare a safe venue in readiness for the new academic year. We are proud to be signed up to the Good to Go scheme, and The Octagon Centre is a Covid-Secure venue.
Everyone's safety has been the University's number one priority in preparing to reopen our buildings. Performance Venues has taken all of the latest official guidance to create a safe, secure and enjoyable experience for everyone.
Read below to find out more about what to expect when you visit the Octagon and of the safety measures in place.
For further information on how ticketing will operate for the University of Sheffield Concerts series, please read their guidance here.
Socially distanced seating
The seating in our main hall has been configured for social distancing at 2m distance. Any tickets sold for in-house events will be sold with this in mind – for University of Sheffield Concerts events, there is availability for groups in line with local and national rules.
As at 23 October the Government guidance for Sheffield under COVID alert level of Tier 3 is that:
you must not socialise with anybody outside of your household or support bubble in any indoor setting, whether at home or in a public place
Your visit to the Octagon
Do not attend any event with us if you are supposed to be self-isolating or have any symptoms of Covid-19 – this includes a raised temperature, a new continuous cough, or a loss of taste or smell.
All of our staff have been fully briefed on the health and safety measures put in place prior to the Octagon reopening.
When you arrive at the venue, please maintain a safe distance from others at all times. There is a one-way system in place throughout the building and this is clearly marked with arrows, floor stickers and barriers. Our friendly Front of House staff are on hand to direct you and offer support.
On arrival, you may be required to queue along the concourse opposite the Students' Union. You will be directed by staff to maintain social distancing.
Our cloakroom is closed so we ask that you bring minimal belongings, as these will need to be kept with you at all times.
Unfortunately we will not be operating a bar service at the moment, but you are welcome to bring non-alcoholic drinks (with a sealed top).
Please remain in your seat during the event. Should you need to leave the hall – we will readmit you to your seat at a safe point.
At the end of the event, please remain in your seat until the Front of House team directs your row out of the hall. This is to avoid congestion when leaving.
All events will last no longer than 90 minutes and any intervals will be short for comfort breaks only.
Face Coverings
In line with the latest guidance, you are required to wear a face covering during your visit, including when inside the Octagon main hall. Please bring your own covering with you. Our staff will also be wearing face coverings.
We support anyone who does not wish or is unable to wear a face covering due to a mental, physical or hidden disability. We ask that you inform us beforehand via email if this is the case; performancevenues@sheffield.ac.uk or concerts@sheffield.ac.uk (for University of Sheffield Concerts events).
Cleaning and ventilation
Our dedicated cleaning team is working hard to ensure our spaces receive additional cleaning, before, during and after your visit. This includes toilets, chairs, handrails and all contact surfaces.
The main hall air-handling units will supply filtered fresh air that is not recirculated and there is natural ventilation in the main foyer areas. All of our air handling systems and ventilation strategies have been reviewed based on the current Ventilation Guidance.
Hand sanitiser stations are available throughout the Octagon. We ask that all customers maintain good hand hygiene, please wash your hands regularly and use the sanitiser stations provided around the venue.
Our toilets have a maximum occupancy, which is indicated on the doors. There will be clear signage on cubicle doors, above urinals and sinks showing which can be used.
NHS Covid-19 app and QR codes at the Octagon
The NHS has launched the Covid-19 app as part of its Test and Trace programme. The app will be used, alongside traditional contact tracing, to notify users if they come into contact with someone who later tests positive for coronavirus.
We will be displaying the QR code posters on our external screens and throughout the venue.
We are asking that anyone attending an event downloads the NHS Covid-19 app and scans the QR code when visiting us. To download the NHS app, search for NHSCOVID-19 in the App Store or Google Play Store on your phone.
For more information about the NHS Covid-19 app visit www.covid19.nhs.uk
We look forward to welcoming you back to The Octagon Centre, and hope to see you soon.
Further Information
Further information on the University of Sheffield's current Coronavirus (COVID-19) guidance can be found on the main website. https://www.sheffield.ac.uk/coronavirus
The latest response from the Government on Coronavirus (COVID-19) can be found here: https://www.gov.uk/coronavirus