Aida Zhakhanbek
Wednesday 10 November 2021 at 6:00 pm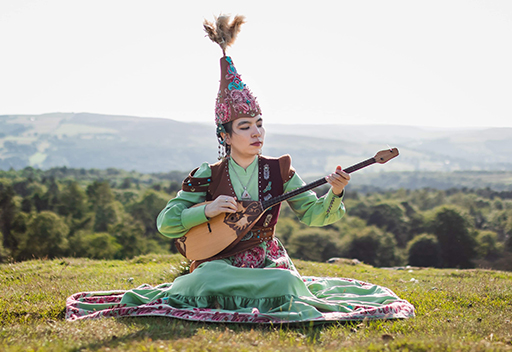 As part of our Lunchtime and Rush Hour series, we have an extra special performance at the legendary DINA. Aida Zhakhanbek is a Sheffield based player, singer and improviser and a multi-instrumentalist. She specialises in Kazakh folk and classical music, and plays a whole host of Kazakh folk instruments including jetigen (a seven stringed zither), sazsyrnai (an ancient clay wind instrument) and percussion.
Join Aida at this unmissable event, where she will introduce her instruments and perform tunes and songs. You might remember Aida from last year's online edition of Making Tracks- this is a unique opportunity to listen to and enjoy her amazing music and instruments in person.
Please note – this event will be taking place in the downstairs section of DINA, where there is no disabled access. Entry will be first come first served and capacity is limited.

Date: Wednesday 10 November 2021

Time: 6:00 pm

Location: DINA 34a Cambridge Street Sheffield S1 4HP

Duration: 45 minutes

Price: FREE