Ella Taylor, plus Dorothy Ker & Renee Timmers
Thursday 09 December 2021 at 5:30 pm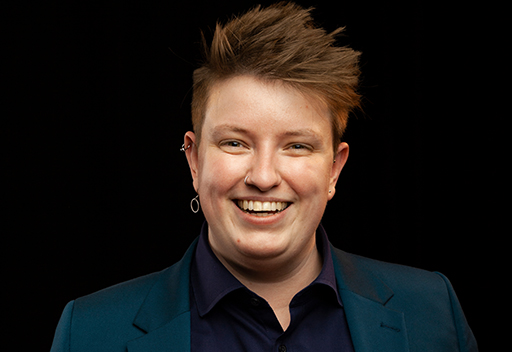 This event is also part of our streaming series for Autumn 2021 – if you would like to reserve a free ticket to watch this event online rather than in person, please click here.
An inaugural celebration of two Professors in Music
Lectures – 5.30pm
Performance from Ella – c.7pm
To celebrate the work of recently qualified professors Dorothy Ker and Renee Timmers, we are delighted to be hosting an evening of inaugural lectures, Q&As and a performance from rising young soprano Ella Taylor. The lectures will span the interaction of mind and body in the enjoyment of music, and contemporary composition.
After the talks, join us for performance of Dorothy Ker's completed song cycle for soprano, and piano, alongside Poulenc's Fiançailles pour rire with Ella Taylor and Leo Nicholson. We are delighted to welcome Ella back after their fantastic stream celebrating trans and non-binary musicians, and composers, earlier this spring.

On the concert and oratorio stage, Ella is in demand as a soloist. Notable highlights include Górecki's Symphony of Sorrowful Songs at Sheffield Cathedral, Schönberg's Pierrot Lunaire at the Royal Academy of Music, and a performance on BBC Radio 3 of Oliver Knussen's Trumpets at the British Composer Awards. Their repertoire includes many of the major oratorios by Bach, Handel, Haydn and Mozart.
Ella is a keen collaborator and recitalist, making a dedicated effort to work with and perform works by people underrepresented in classical music.
Lectures from 5.30pm, performance from Ella and Leo at 7pm.
We are sorry that Professor Dominic Broomfield-McHugh is unable to lecture at this event – his inaugaral lecture will be rescheduled to Spring.
Find out more on the Department of Music's web pages:
https://www.sheffield.ac.uk/music/news/staff-inaugural-event-researching-music-materials-cultures-behaviours
Supported by and in association with the Faculty of Arts & Humanities
University of Sheffield Concerts takes safety and COVID-precautions very seriously. We will be following our Covid-19 measures and conditions of entry – which can be found here.
Date: Thursday 09 December 2021

Time: 5:30 pm

Location: Firth Court Western Bank Sheffield S10 2TN

Price: This is a free event however we request that you book a ticket/tickets so we can manage numbers and capacity for this concert. We cannot guarantee entry if you arrive on the day of the concert without having booked in advance

Buy tickets