198X: Retro-Future Silent Disco
Tuesday 16 May 2023 at 6:30 pm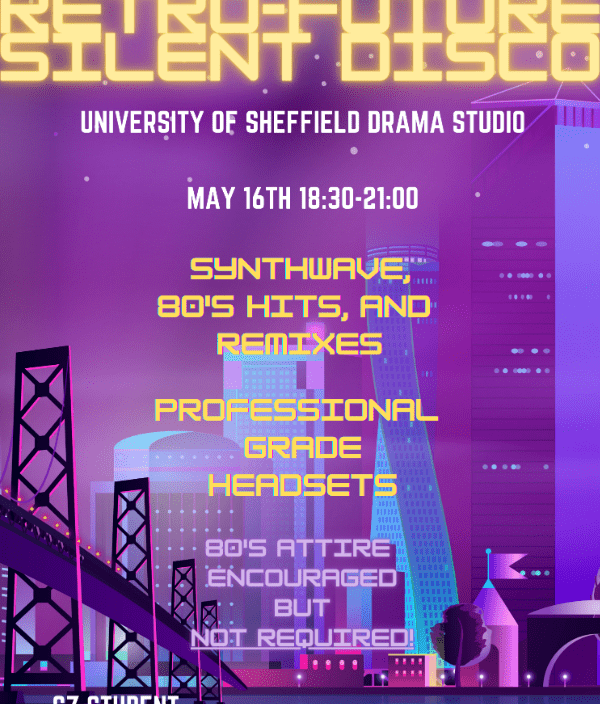 We're continuing our work with the Music Management School as the students present 198X: Retro-Future Silent Disco. A silent disco full of synthwave and the biggest hits of the 1980s, come down for a dance with us.
"Josie's on a vacation far away, come around and talk it over!"
198X is a one-night silent disco featuring the hits of the 1980s, alongside notable and unique remixes, and synthwave tracks inspired by these iconic 80s songs. Conceptualized by University of Sheffield Management and Music-Management students, this uniquely themed silent disco is a fun night out for the young and young at heart alike who have nostalgia or appreciation for 1980s hits, inspired music, and culture. The atmosphere created for the event is retro-futurism inspired by science fiction, horror, and pop culture films and media of the same period reinforced with vaporware and synthwave art presented on the projector. Hosted at the University of Sheffield's Drama Studio, the venue's uniqueness provides another dichotomy of past and future that continues to fall in line with the theme and premise of the event. Guests are encouraged to dress in 1980s fashion and/or retro-futurist attire to help reinforce the theme of the evening!
198X will be a great evening for university students looking to let loose before the exam season begins, older Sheffield natives looking to hear the hits and sounds of their past (alongside new songs with a similar feel), silent disco and 80's enthusiasts, and anyone looking for an interesting evening out. So come on out to the UoS Drama Studio "and we can act like we come from out of this world, Leave the real one far behind, and we can dance!"
Doors open at 6:20pm.
Please note that students can gain access on the door for £7 if a valid Student ID is presented.
Date: Tuesday 16 May 2023

Time: 6:30 pm - 9:00 pm

Location: Shearwood Road Sheffield S10 2TD

Duration: 2.5 hours

Price: £9 Full / £7 Student / £10 on the door

Buy tickets