New Music at DINA
Tuesday 07 December 2021 at 7:00 pm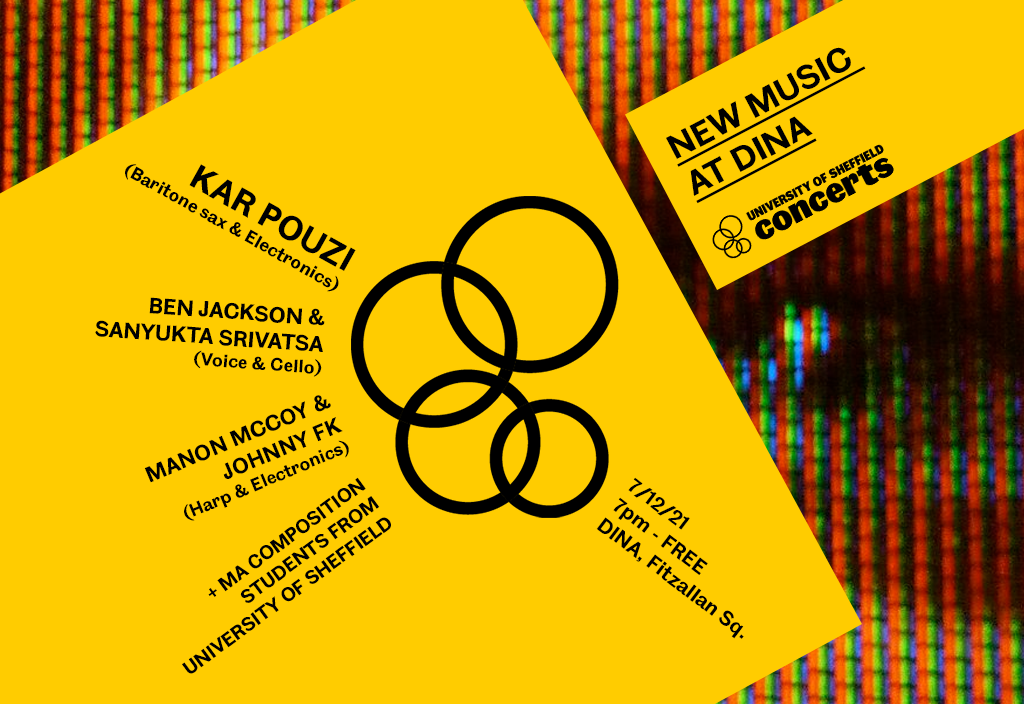 New Music at DINA
After the success of our after work event with Aida Zhakhanbek, we're back for a full evening. This time with a more experimental approach.
Join us for a free evening of wild music – from shuddering baritone saxiphone through to electronically augmented harp.
This is an expanded version of our New Music Ensemble performances at the University, and we'll be showcasing some student performances of contemporary peices too.
FEATURING:
Kar Pouzi (Full set)
In tides of pulses, ecstatic drones and skronking sax, Kar Pouzi intertwines baritone saxophone with synthesizers and electronics.
Debut EP release Red Sprite revels in incessant repetitions that converge and contrast with the sounds of analogue synths. Red Sprite is released by don't drone alone.
Benjamin Jackson and Sanyukta Srivatsa (voice and cello)
Manon McCoy and Johnny FK (Harp & Electronics)
2/3rds of Shivelights bring a stunning combination of harp and electronics.
Plus Solo pieces from University of Sheffield Department of Music MA students
Totally free entry, starting at 7pm sharp. Doors around 6.45.
Date: Tuesday 07 December 2021

Time: 7:00 pm

Location: DINA 34a Cambridge Street Sheffield S1 4HP

Price: FREE - no ticket required but space is limited.

Facebook event