New Music Ensemble
Thursday 24 November 2022 at 5:00 pm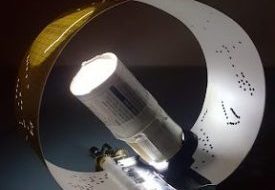 Join us for another celebration of cutting-edge new music in Firth Hall, our regular lively showcase of new compositions for solo instruments and ensembles. Every NME concert is a unique event full of fresh new sounds from Sheffield composers and performers, centring around the New Music Ensemble, an elite group of student performers led by Professor Dorothy Ker and Associate Conductor James Thomas.
This event will also feature an installation and exhibition of Melting Buildings: Reimagining the Arts Tower Through Sound and Light.  The exhibition will open at 5.15pm, and the bar at 5pm.
This project will see sound artist Lorenzo Prati work with participants to explore the relationship between music and architecture. Focusing as a main subject on Sheffield's modernist Arts Tower, participants will produce a set of unique sound and light sculptures that will be exhibited as part of an interactive installation. Using a combination of materials including music boxes, LED lights and radio transmitters, participants will reveal the building's musical qualities and collaboratively work on an interactive installation where the Arts Tower is re-imagined through sound and light projections.
To take part in the workshops ahead of this event, please contact our team or visit our website listing for this event. 
Date: Thursday 24 November 2022

Time: 5:00 pm

Location: Firth Court Western Bank Sheffield S10 2TN

Duration: 1 hour

Price: Free