Queer Folk
Friday 24 June 2022 at 7:30 pm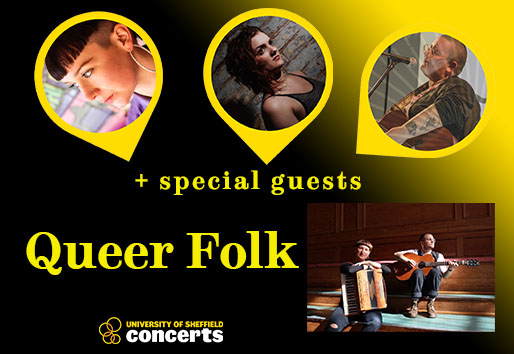 Unfortunately this event has been cancelled due to artist illness. We hope to re-arrange for a future date.

LGBTQIA+ people have always existed so where are they in our traditional music? Right here! Queer Folk (George Sansome and Sophie Crawford) have been delving into the archives to find stories, songs and dances celebrating LGBTQIA+ history. Come along to hear old songs and new by an array of LGBTQIA+ folk musicians!
George Sansome plays in Granny's Attic and his solo album was One of Songlines magazine's "Essential 10 Folk Albums of 2020", Sophie Crawford's album Silver Pin was Mainly Norfolk's 2018 album of the year and she performs with the drag king band BOYZ.
Queer Folk is a project that has worked to build up a collection of LGBTQIA+ resources of songs, dances and stories, now looking to explore LGBTQIA+ stories in the National Fairground and Circus Archive partnering with Fay Hield.
The line-up of the  The Pride Tour
Hannah James – Renowned as one of the best accordionists on the British folk scene, her musicianship extends far beyond the tradition and flawlessly incorporates beautiful vocal stylings with both classic and contemporary applications of English clog dance. 
Debbi Armour (Burd Ellen) – Part of the duo Burd Ellen, known for the use of traditional songs to explore and evoke dark landscapes and deep stories. 
Maddie Morris – Winner of the BBC Radio 2 Young folk award and a contemporary folk musician
Queer Folk – George Sansome and Sophie Crawford
Date: Friday 24 June 2022

Time: 7:30 pm

Location: Shearwood Road Sheffield S10 2TD

Price: Tickets: £14 Full / £11.50 Concessions / £6.00 Student & Under 30

Buy tickets