Rakhi Singh (STREAM)
Thursday 18 November 2021 at 7:30 pm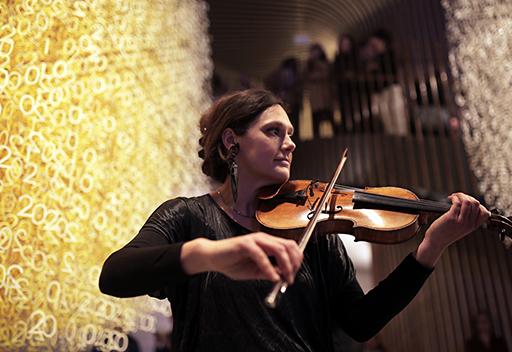 This event is also part of our streaming series for Autumn 2021 – if you would like to buy a ticket to watch this event in person rather than online, please click here.
Read more about how our streamed events work and the rest of our streaming season here.
Over the past decade Rakhi Singh has cemented herself as one of the leading lights in the UK's contemporary instrumental scene. She is music director for Manchester Collective with whom she plays over 70 concerts a year across Europe and beyond, described in The Guardian's Classical picks as having a 'golden tone' in a recent four star review.
Singh is known for taking audiences on a journey through the incredible breadth and range of emotions summoned by a single, solo violin. Expect to hear the likes of Bach, Matteis, Sciarrino, Oliver Coates, Michael Gordon and Ruta Vitkauskaite.
Having performed with, for and alongside instrumental pioneers Philip Glass and Steve Reich and artists at the vanguard of contemporary instrumental music today such as Mica Levi, Clark and Oliver Coates her performances meld the past and present seamlessly.
Expected programme:
Fantasia – Matteis

O Mirium – Ruta Vitkauskaite

Fugue in G Minor – J.S. Bach

Caprice no 2 – Sciarrino

Dark Sky Community – Oliver Coates

In Beautiful May – Andrew Hamilton
University of Sheffield Concerts takes safety and COVID-precautions very seriously. We will be following our Covid-19 measures and conditions of entry – which can be found here.
In the unlikely case that this event is cancelled or postponed, we will be able to provide full refunds.
Date: Thursday 18 November 2021

Time: 7:30 pm

Price: £0.00- £10.00

Buy tickets