rarescale
Thursday 31 March 2022 at 7:30 pm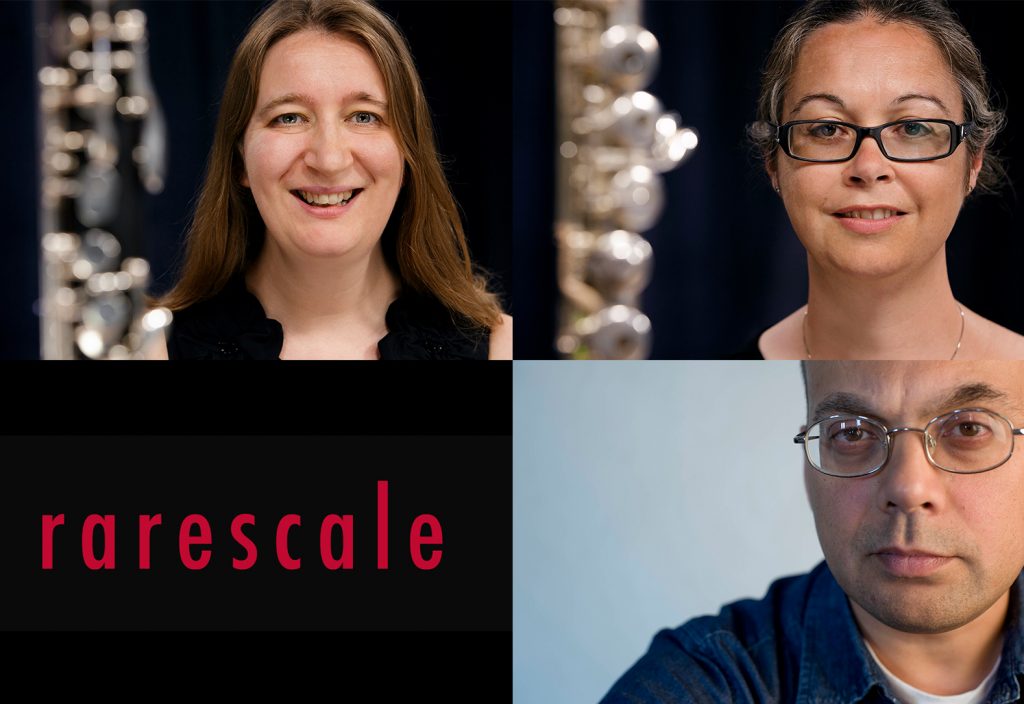 Join us for an evening of low tones and exciting new music at this special concert featuring the rarescale ensemble. The programme features new premieres of work from Professor Dorothy Ker, Ellen Sargen and some fantastic work for electronics and live instruments. 
Rarescale is a flexible-instrumentation contemporary chamber music ensemble, formed by low flutes specialist Carla Rees in 2003 with the aim of creating and championing new repertoire for her instruments.  Bringing together performers with a passion for new music, collaboration and supporting the work of both emerging and established composers, the group have performed at Huddersfield Contemporary Music Festival, for the National Flute Association of America, and across the USA and Europe. 
This concert features 2 regulars, Carla Rees, and the University's very own Sarah Watts, plus Sorhab Uduman. Carla Rees is an innovative low flutes player, developing repertoire for her instruments through research, performance and interdisciplinary collaboration. Sarah Watts, a regular of the series, is an exceptionally talented performer who is known for her work on bass and contra-bass clarinet. She's a member of Hard Rain Ensemble and teaches at RNCM and is Head of Performance here at Sheffield.  Sorhab Uduman is a clarinettist and electro-acoustic composer who specialises in interactions between electronics and live art or instruments. 
Programme:
Stephen Davismoon: veiled bamboo, swift water … boundless, for Alto Flute, Contrabass Clarinet + Electrics 
Claes Biehl: evocazione del mare, for Bass Flute & Electronics
Dorothy Ker: New work (World Premiere)
Interval
Florence-Anna Maunders: Winds for Alto Flute and Bass Clarinet (World Premiere)
Ellen Sargen: You may own us but we are going to inform on you for Contrabass Clarinet and Electronics (World Premiere of Live Performance)
Sohrab Uduman: Sound me closely for Bass Flute, Bass Clarinet and Electronics
Date: Thursday 31 March 2022

Time: 7:30 pm

Location: Firth Court Western Bank Sheffield S10 2TN

Price: £15 Full / £12.50 Concessions / £6.50 Student and Under 30

Buy tickets