Sarah Watts & Anne Macgregor – online
Thursday 03 December 2020 at 7:30 pm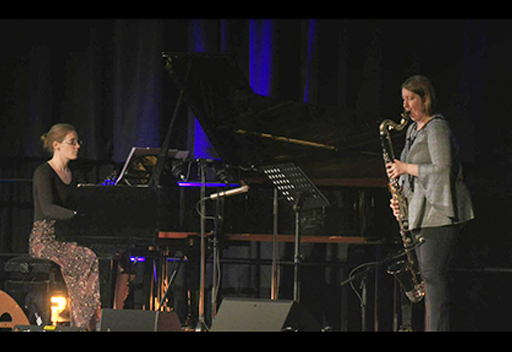 This concert was filmed in the Octagon Centre using multiple cameras and a state-of-the-art sound recording system. We're blown away by the results and hope you'll join us to enjoy some beautiful music delivered directly into your home! This online concert forms part of an exciting programme of online events through our involvement in UCAN UK Streaming; a partnership with university concert programmes across the country.
Sarah Watts and Anne Macgregor perform a beautiful programme celebrating the versatility of the clarinet and piano, including works by Debussy, Vaughan Williams and Poulenc.
Sarah Watts studied clarinet at the Royal Academy of Music with Angela Malsbury and Victoria Soames Samek (bass clarinet). She specialises in the bass clarinet, and has gained an international reputation as an artist, teacher and researcher on the instrument. She has performed solo repertoire across the UK, Ireland, Asia, Europe and the Americas and has attracted composers including Sir Harrison Birtwistle, Piers Hellawell and William Sweeney to write works for her.
In this programme, Sarah will be playing Six Studies On English Folk Song, by Vaughan Williams, which was originally written for cello and piano. They have been transcribed for numerous other instruments including the bass clarinet.
Anne Macgregor studied piano at the Royal Conservatoire of Scotland under Fali Pavri and Philip Jenkins, where she won prizes for both her performance and academic work.

We're delighted to announce our involvement in UCAN UK Streaming. Together with other university concert programmes across the country, we are bringing our streamed events to a wider audience during this challenging time for music performance. Our partner venues are Turner Sims (Southampton), Lakeside Arts (University of Nottingham) and Lancaster Arts.
Date: Thursday 03 December 2020

Time: 7:30 pm

Price: £5 A pre-recorded programme from the Octagon Centre for University of Sheffield Concerts

Buy tickets