Sound Junction Satellites: Live Coding & 3-D Sound
Saturday 14 November 2020 at 7:30 pm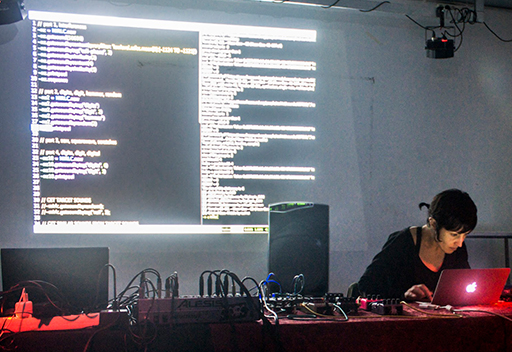 A day of workshops and performances exploring live coding, 3D sound-worlds and more. Experience the cutting edge of electronic music and learn some new techniques in a socially distanced workshop at The Octagon Centre.
Suitable for all abilities – a laptop, headphones and enthusiasm are all you need. 
In the first of what we hope will be many collaborations, we're excited to announce that Sound Junction Satellites are collaborating with Algomech; a festival of algorithmic and mechanical movement, and a Sheffield home for the burgeoning live-coding electronic music scene.
The day will be split into two workshops and a performance. First up, musician and developer Alex McLean will run a workshop on using Tidalcycles, a free, creative program for live-coding music. Then we'll be joined by Adrian Moore and Adam Stanovic to explore the creative possibilities of working with multiple speaker setups. The day will be rounded off with a concert exploring live-coding and 3D sound with performers Anna Xambo, Gerard Roma, Alex McLean, and members of the University of Sheffield Sound Studios.
Workshops:
11am-1pm – Live-coding workshop using Tidalcycles 
The live coding workshop will focus on the TidalCycles free/open source system, which allows the parameters of a sound to be controlled through algorithmic patterns of repetition, symmetry and interference. Participants will listen to and discuss algorithmic patterns, before having the opportunity to work with the code themselves. It will finish in a collaborative 'Jam' session where participants will make music by live coding together.
Participants will be encouraged to install tidal before the workshop, help will be available if you get in contact!
2pm-4pm – Multichannel Composition workshop
Ever wanted  to learn how to use more than 2 speakers to full effect? This fascinating workshop and talk will explore space using 8 loudspeakers surrounding the audience. Composers from the University of Sheffield Sound Studios will talk about the importance of high-fidelity multi-channel capture of sound, its development and how to write and create music for multi-speaker setups. You'll learn about the technique of sound diffusion and work with the Sound Junction sound system to diffuse short segments of music too!
https://www.sheffield.ac.uk/usss
Live event:
7.30pm – 9pm
After a day of learning new techniques and approaches, come and see it all in action with an incredible multi-speaker concert featuring the best of live-coding and electro-acoustic composition. Starting at 7.30, expect an evening of socially distanced 3D sound both immersive and frenetic – as performers explore the possibilities in multi-speaker setups, both through live coded music, and through purpose-built compositions. You won't hear anything else like it!
Tickets are available for this event seperate from the workshop.
Featuring:
Alex McLean 
Alex McLean is a musician, developer and researcher based in Sheffield, UK. Through his work on Algorave and the Algomech festival he has played a key role in developing a community of musicians both locally and internationally who use code to create live, electronic music. This highly creative and burgeoning scene has been featured in The Guardian, Medium.com, BBC and other national/international news outlets, and Alex performed everywhere from dingy DIY venues to Bluedot Festival and The British Library. He performs as Yaxu, and also in several other groups including the bludgeoning live-coded techno duo CCAI.
Gerard Roma
Gerard Roma is a musician and music technology researcher from Barcelona. He performs and releases electronic music under different project names. His practice includes live coding and algorithmic music, corpus-based performance and participatory music.
His work often involves multi-channel setups, and he has performed with systems such as Sindicato de Altavoces (Barcelona) or the Huddersfield immersive sound system (HISS) (UK).  His work has been presented in Spain, UK, USA, Ireland, Norway and Germany.
Anna Xambo
Anna Xambó is a Senior Lecturer in Music and Audio Technology at De Montfort University and an experimental electronic music producer. Her research and practice focus on new interfaces for music performance looking at live coding, collaborative and participatory music systems, and multichannel spatialisation. For the latter, she has experience with the Sindicato de Altavoces in Barcelona and the high-density loudspeaker array The Cube at Virginia Tech. Her solo and group performances have been presented internationally in Denmark, Germany, Norway, Spain, Sweden, UK and USA. To date, she has released three solo recordings: "init" (2010, Carpal Tunnel), "On the Go" (2013, Carpal Tunnel) and "H2RI" (2018, pan y rosas). Her solo works are known for their unique sound of working with hypnotising basses, industrial ambiances, and noise as concept art.
USSS
Led by composers and researchers Adrian Moore and Adam Stanović, the University of Sheffield Sound Studios specialises in acousmatic music composition and performance. In particular USSS researchers are interested in the methods composers use to create their sonic art and how these works adapt and extend the ways music is created, performed, produced and experienced. They run the regular Sound Junction concerts, where immersive sound worlds are diffused and thrown across an impressive 32 speakers system. This set of pieces will include the cutting edge of work from Adrian, Adam, and students at the studio.
https://www.sheffield.ac.uk/usss/
Date: Saturday 14 November 2020

Time: 7:30 pm

Location: The Octagon Centre 
Western Bank
 Sheffield S10 2TQ

Duration: 90 mins

Price: Workshops (Includes free entry to Live Event) - £15 Live Event - £8

Buy tickets