The Marian Consort
Thursday 20 October 2022 at 7:00 pm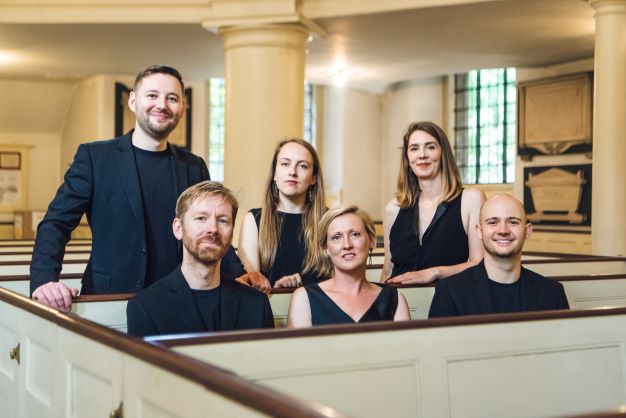 The Marian Consort is a vocal ensemble that presents bold and thrilling performances across the UK, Europe and North America. They perform music from the fifteenth century to the present day, with a focus on bringing to light and championing lesser-known works.
Led by founder and director, Rory McCleery, the group is composed of the very best singers in a flexible, intimate ensemble, allowing clarity of texture and subtlety of interpretation that illuminates the music for performer and audience alike. TMC features regularly on BBC Radio 3, and has released twelve recordings to critical acclaim, praised for 'precision and pellucid textures' (The Times).
For this concert they will perform their new programme of early English music for five voices ''Why do I use my paper, ink and pen'. Featuring works by William Byrd, Thomas Tallis, Nathaniel Giles, Philip van Wilder, Clemens non Papa and Osbert Parsley.
This event will feature a pre-concert talk from Alexandra Siso, a specialist in Elizabethan music, and a visiting Musicologist at the University of Sheffield. She will also be joined by Rory McCleery from the Consort, who will discuss the programme with her.
Please note that this event will start at 7pm. This is listed incorrectly as 7.30pm in our brochure.
Schedule:
Doors – 6pm
Pre-concert talk – 6.30pm
Performance – 7pm to c.8.15pm
Programme
Why do I use my paper, ink and pen?
Treasures from the manuscripts of Elizabethan England
Thomas Tallis Lamentations of Jeremiah I 
Nathaniel Giles Tibi soli peccavi 
William Byrd Why Do I use my paper, ink and pen? 
Philip van Wilder Aspice Domine 
Robert Parsons Ave Maria
Tallis Salvator mundi 
Byrd Domine praestolamur 
Clemens non Papa Job tonso capite 
Osbert Parsley Lamentations of Jeremiah
William Byrd Circumdederunt me
This is music of extraordinary delicacy and intimacy that packs an emotional punch. Lamentations by Thomas Tallis and Osbert Parsley explore desolation with a hope for divine intervention, while works by William Byrd and Nathaniel Giles communicate religious convictions in coded terms, a potentially dangerous strategy in Protestant Elizabethan England. Even more incendiary is Byrd's setting of Henry Walpole's Why do I use my paper, ink and pen, a poem commemorating the martyrdom of Edmund Campion. The melting heart of the programme is Parsons's Ave Maria, one of most extraordinarily beautiful works in all of choral music.
Date: Thursday 20 October 2022

Time: 7:00 pm - 8:30 pm

Location: 45 Surrey Street, Sheffield, South Yorkshire S1 2LG

Duration: 70 minutes

Price: Advanced: £16 Full / £13 Concessions & TUoS Staff / £8.50 Students & Under 30 All prices are £3 more on the door

Buy tickets