Workshop and Exhibition – Melting buildings: Re-imagining the Arts Tower through sound and light- CANCELLED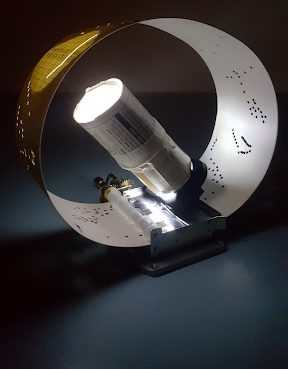 Due to unforeseen personal circumstances, this workshop and exhibition has been cancelled. The New Music Ensemble concert on 29th April will still go ahead.
27th April
Workshop 8.30-9.30pm
29th April
Workshop Exhibition Setup- 3-4pm
Bar Opens- 5pm
Exhibition- 5.15pm
New Music Ensemble Concert- 5.45-6.45pm
Have you ever wondered what a building might sound like if it could be played like a piece of music?
Sound artist Lorenzo Prati invites participants to join him for a workshop (two 1-hour sessions) exploring the relationship between music and architecture. Focusing as a main subject on Sheffield's modernist Arts Tower, participants will produce a set of unique sound and light sculptures that will be exhibited as part of an interactive installation. Using a combination of materials including music boxes, LED lights and radio transmitters, participants will reveal the building's musical qualities and collaboratively work on an interactive installation where the Arts Tower is re-imagined through sound and light projections.
Workshop- Wednesday 27th April – 8.30pm-9.30pm (free- please book your place using the event link)
After a brief demonstration of various approaches for the mapping, transcription and translation of visual patterns into music-box notation, we will embark on a walk circumnavigating the Arts Tower in order to capture it from different angles, distances and light conditions. Each participant will be given notation tablature, hole puncher, pencil and paper. During the walk they will gather sketches and diagrams of the illuminated cityscape, including the Arts Tower and any other buildings of interest. Imprinting these patterns onto the notation, the built environment will be re-worked as scores. Participants will also be able to collect found materials and objects to augment their music box with, experimenting with various resonant material to rest the instrument on, as well as preparing the music box by inserting objects into the notes' lamellae. After the walk, all participants will be able to take home their hole punchers and rolls of notation tablature so that, in their own time, they might create more scores to bring to the following session.
On the Friday 29th April 3pm-4pm, participants will meet in the Council Room, Firth Court. Here everyone will complete their scores and assemble them with the music boxes and LED lights in a circular manner in order to create endless loops. This set up allows sound and light to be produced simultaneously as the result of hand cranking the music box mechanism. The session will end with an exhibition (listed below) evening sound plus light installation open to the public where all of the scores and devices made during the workshop will be exhibited.
The workshop is available to 10 participants. No musical or architectural expertise will be required for this activity. All equipment and materials necessary for both activities will be provided.
Exhibition- Wednesday 29th April (free) 
An exhibition showcasing the work of workshop participants, free to attend to the general public. The bar will open from 5pm, and the exhibition will be available to view in the Council Room (Firth Court) from 5.15pm. This will be followed by the fantastic New Music Ensemble's concert at 5.45pm in Firth Hall, details of which can be found here.
Date: Wednesday 27 April 2022

Location: Western Bank, Sheffield, South Yorkshire, S10 2TN

Price: FREE

Book your workshop place
Plan your visit